The effect of Integrated Design
Consumer Electronics
Better products and huge savings
… going from from 24 to 6 months of product development.
Integrated Design
Creating a synergy of specialist can open for new unconventional possibilities that better solves the objectives of the project.
A holistic approach and with a integrated structure results in seamless project development.
More efficient planning, specifications and reviews between stakeholders like Design, Engineering, Marketing and Management who collaborate leads to improved and better solutions with the end users in the mind.
From 24 to 12 months
Previous to 1990 the Swiss company Ascom needed 24 month to design and develop telephones.
Integrated Design was introduced by the design team and we shortened the time of development by another 12 month.
From 12 to 9 months
3D Computer Aided Design was introduced which initially reduced time for development from 12 to 9 month.
From 9 to 6 months
The process was optimized with CAD/CAM facilities.
Time for design and development reduced once more, from 9 to 6 month.
Great return
With a very large corporate team, efficiency is crucial and consequently the savings was substantial.
Furthermore Ascom could respond immediate to market and adjust portfolio and clients requests.
iF Design Award
Proof of excellent work and good design.
The iF Design Award, which spans multiple disciplines, has more than 5500 entries from around 59 nations every year.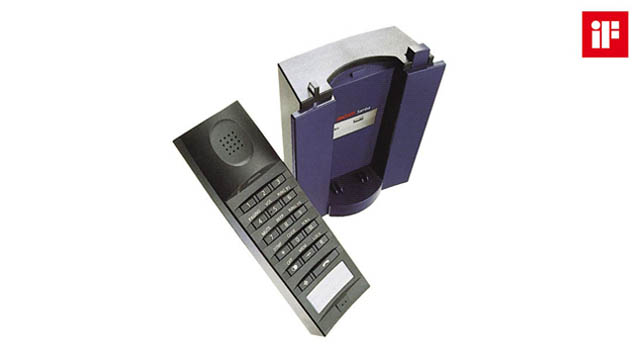 Platform
Samba was the third generation of cordless phone design.
Circuits and other components were also used for Swiss Telecom PTT, Sinus 51 and Beocom 5000.
iF Award
All three designs,
"Samba" – Swiss Ascom,
"Sinus 51″ – Deutsche Telekom and
"Beocom 5000" – Bang&Olufsen
receives the IF Design Award 1996.
Cordless Telephone
Samba stands out with its simple and cost-effective design.
It consists of only five parts assembled with snap locks.
Apart from the batteries, no heavy metals are used.
The design is based on the interplay between convex and concave surfaces, giving a compact and sleek look.
This is done down to the last detail; For example, the keys on the handset are recessed into a concave surface to prevent them from being accidentally activated.
The handset fits well with the base, which enhances the compact appearance of the device.
Sinus 51 – Deutsche Telekom
Beocom 5000 – Bang & Olufsen
Cordless Telephone
This cordless telephone Xenia has an integrated answering machine.
The design was tested among 4 competing telephones by a panel of end users.
It was a breakthrough experience.
Everything was revealed, the touch against the skin, the feedback from keys, colors, placement of the handset, weight, smell, you name it, they noticed it, discussed it.
Xenia was evaluated to be the most promising design with a lot of attractive features and appealing design.
It is truly amazing how accurate and how speeding fast users evaluate a product.
The design is based on the interplay of convex and concave surfaces which enhances the tactile qualities of the telephone.
The rear of the handset has a convex shape and the sides have a concave indent.
On the base station, the handset bay curves up gently on both sides.
This improves the ergonomics and helps to guide the user's hand to the handset.
The function keys are positioned on the top left and those of the answering machine at the bottom right to the slit on the base.
The design of the keys and typography has been kept simple, making the telephone easy for use.
1996 Xenia receives the IF Design Award.
BeoCom 5000
B&O's first cordless phone with a number of attractive features that make it a convenient and flexible phone in everyday life.
No matter where you are in the house, there is easy access to both incoming and outgoing calls.
The handset has an excellent weight distribution and ergonomics, which makes long calls more comfortable.
The rechargeable battery gave around 24 hours standby and four hours of continuing calling time. The handset worked at a distance up to 300 metres from the base without any sound deterioration, indoors and out, and dependent on differing conditions.
The handset also had the ability to increase or decrease the volume on other Bang & Olufsen equipment via the built-in remote control. A key lock was built in to avoid the unintentional dialing of telephone numbers when transporting the unit. This phone also had a scrambling function making it almost impossible to 'listen in' on calls.
Platform
Circuits and other components were also used for Swiss Telecom, Sinus 51 and Samba.
iF Award
All three designs,
"Samba" – Swiss Ascom,
"Sinus 51″ – Deutsche Telekom and
"Beocom 5000" – Bang&Olufsen
receives the IF Design Award 1996.
Ascom Corporate Industrial Design
1993 – 1996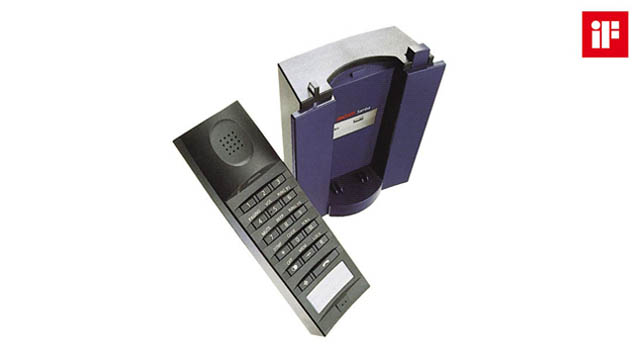 Sinus 51 – Deutsche Telekom
iF Award
1994 Barryvox receives the IF Design Award.
Rescue Device
Electronic life saving device for mountaineering and diving.
Immediate help is what really matters.
This has been proven by test carried out by the Swiss Federal Institute for Snow and Avalanche Research, Weissfluhjoch, Davos.
Human life is dependent on simple and effective user-interface.
If the victims of an avalanche can be found immediately afterwards, the chances of survival are 80%
Ascom Corporate Industrial Design
1993 – 1996
Delays can be seriously expensive
Due to delays, the project for this DECT phone Taro was closed in 1995 after investments of 25 million CHF.
This huge loss was a crucial motivation to introduce "Integrated Design" to business management… and we did so with great success.
Ascom Corporate Industrial Design
1993 – 1996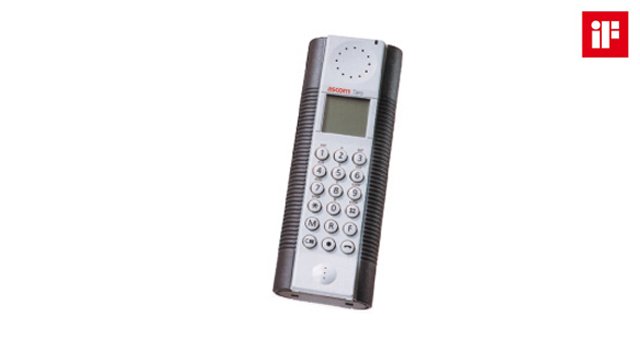 iF Award
1994 Taro receives the IF Design Award.
ISDN telephone system
Ascom Avena's intelligent concept allows you to combine and add different components as needed.
Super performance and easy to use. In a brief moment, the large alphanumeric screen shows you the next step.
And an intelligent menu guides you with ease through the many functions.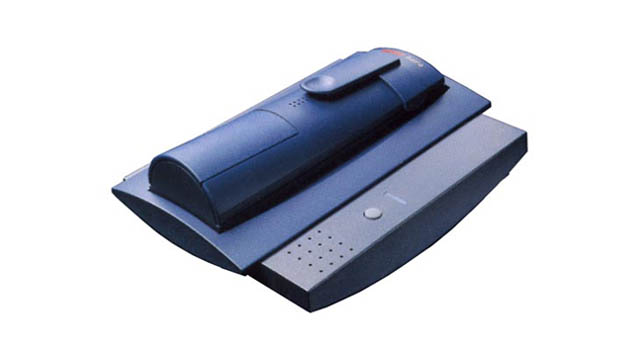 Avena
Up to six handsets can be connected to the base station.
Avena Plus can store up to 50 frequently used numbers, speed dials and has an integrated answering machine.
Cordless phone, free and unhindered communication.
Ascom Corporate Industrial Design
1995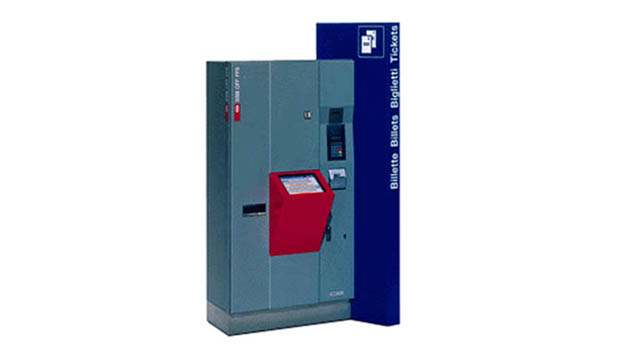 Ticket Vending Machine
Design for SBB, Schweizerische Bundesbahnen.
With its design, the ticket machine is easy to identify and locate at the train station,
logical and fast to operate, also for wheelchair users.
Ascom Corporate Industrial Design
1993 – 1996
Telephone – Deutsche Telekom
Innovative idea; one and the same design for two different applications.
The handset is positioned at a 30° angle, no additional parts are required for wall mounting.
And there is no ergonomic compromise when handling the handset.
The slim volume is reduced achieved with an elegant curve, giving a distinctive design.
Ascom Corporate Industrial Design
1994
Conceptual design study for an Ascom and B&O GSM phone – 1995
Ascom Corporate Industrial Design
1993 – 1996
GSM Telephone
The market for GSM phones is extremely attractive in 1995.
For companies like Ericsson and Nokia, GSM phones make up a significant portion of their revenue in this market.
However, margins will shrink over time, which is precisely why Ascom wants to enter the market.
The purpose is to earn as much as possible, during the period of high earnings.
Quick access to the market is possible, as GSM technology and Chip Set can be acquired from specialized companies.
Computer Aided Design shortens the time for design and development.
The Euronova 200 and 300 telephone are both an ideal blend of form and function.
Its curved and stylish design will make a bold statement in any room, while its sleek lines and modern, minimalistic look will add a touch of sophistication.
With these telephones, you can have the best of both worlds – a fashionable and practical piece of technology.
Ascom Corporate Industrial Design
1995